State Bank of India (SBI), which is the largest lending bank of India has increased the home loan growth by whopping Rs 1,800 crore in December 2012 from Rs 1,500 crore, which was logged in November, 2012. According to market analysts, this huge expansion of SBI over single month time frame, after extracting out the loan repayments from disbursals, is indeed a second highest record ever. Statistics show that SBI's outstanding for home loans is approximately valued at Rs 1.13 lakh crore in the December 31, 2012. After suffering significant damages in its asset quality spells as the result of lending to corporate, SBI is now focusing on retail loans wherein the risk of defaults is not too high. The bank is currently offering the cheapest home loan rate, put at 10%, and the nationalized advertisement campaign run by it has shown good results in this regard.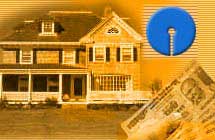 Off late, the SBI has also started offering discounts on the home loans, though for the limited period.  The bank has taken a beneficial step, by plummeting the home loan processing fee to half, now put at approximately Rs 3000 for the home loans maximizing to Rs 75 lakh.
The SBI's switch over fee has also seen the reduction from 1% to 0.56% and this is calculated on the outstanding amount. Home loan borrowers, who have taken home loan from other banks, will make uniform conversion fee of Rs 1,000 only, and this fee is not at all depend on loan amount. In addition, SBI has taken a step forward, wherein, the borrower will not require the guarantor for home loans.
In the meantime, the bank is also thinking on cutting the base home loan rate further, which until recently was reduced by around 25 basis points and valued at 9.75% on September 18, 2012. It is also likely, that SBI would take final decision on cost of funds, net interest margin besides, giving a nod to RBI's January policy.